Specialty Glasses
Designer Eyewear
Over 5,000 frames to choose from including designer frames from the following:
Ray-Ban
Cynthia Rowley
Ted Baker
Tura
Dana Buchman
Persol
Jimmy Crystal New York
Gucci
Armani
Guess
Revolution
Bebe
Fendi Dolce
Vera Wang
Escada
Harley Davidson
Aspex
Versace
Gabbana
and many more ...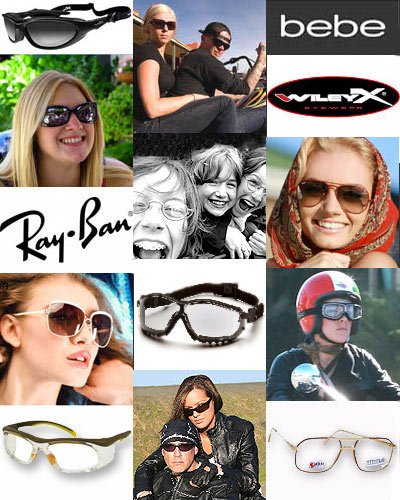 Motorcycle Goggles!
True performance eyewear.
Protect your eyes.
Protect your freedom.
We carry a huge selection of motorcycle and sports frames from all major manufacturers.
Whatever you're looking for, whatever your sport, we have the frames you need and the styles to make you look your best!
Riding glasses, sunglasses and high-performance eyewear for clear vision and good looks on the road or anytime.
Fashion Sunglasses!
Fashion for every occasion.
Top designers and brands.
Affordable chic.
High-fashion sunglasses are always in style, and for the widest range of the latest high-fashion sunglasses for men, women, and kids, come to Antioch Opticians.
We carry styles for the look you want at the reasonable prices you've come to expect from Antioch Opticians.
Don't see what you want? Don't worry! We can order it for you.
Safety Glasses!
We know safety glasses!
Medical - Construction - Laboratory
Whether you need protection from dust, wind, sun, impacts, chemicals or lasers, Antioch Opticians has a wide variety of options and styles to suit your needs.
Our in-house optical lab allows us to make our own lens and pair them with our large inventory of safety frames and a full line of eyewear accessories.
Vision loss is one of the top 10 on-the–job injuries, yet safety experts and doctors agree 90% of these incidents are preventable.
We make occupational safety-rated eyewear built for anything the workplace throws its way.
Shooting Glasses!
Your eyesight is your first precision weapon.
Be your best even in bright light, strong wind and dust. Clear vision is yours with the right shooting glasses. We have a variety of styles. One of them is exactly what you have been looking for to improve your aim under all conditions.
On the range or in the field, come see the difference in your performance with the right eye protection.
Antioch Opticians has shooting glasses that are ANSI and MIL approved - lenses that are shatter free.
The right hunting glasses will sharpen your vision, provide safety from misfire, tree branches, stray bullets, or clay particles, and enhance your overall performance.
Eye Glasses

Contact Lenses

Eye Glass Repairs

One-Hour Service